Nicholas Katzenbach
"Talks About Crime, Racial Violence, Children & Punishment"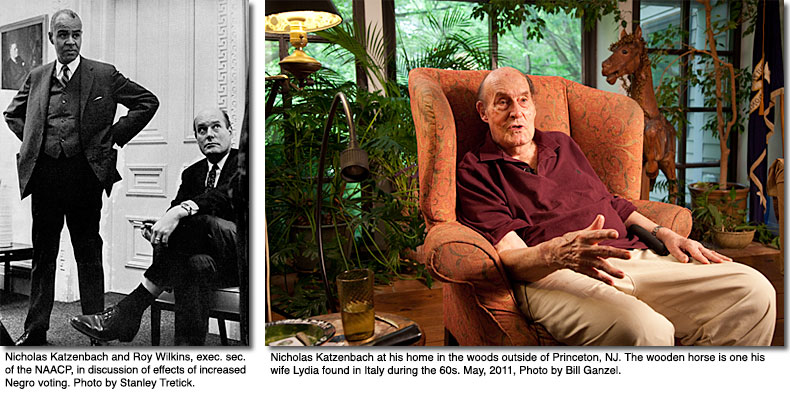 Nicholas Katzenbach had just been named President Johnson's Attorney General when LOOK profiled him and the challenges that he faced in the office in 1965. The article was titled "Crime in our Streets – Racial Violence This Summer – Business & Trust-Busting – Children & Punishment." LOOK called him "an astute and sensitive politician who tries to win his point without making an enemy."

Yet just two years before that, Katzenbach was combative when he faced down Alabama Gov. George Wallace in the doorway of the University of Alabama and insisted on registering two black students, Vivian Malone and James Hood. "President Kennedy wanted me to make Wallace look foolish," Katzenbach now says. "I said, 'Fine.'" With scores of cameras and reporters – plus U.S. Marshals keeping angry crowds of whites off the campus but nearby – he walked up to Wallace and reiterated that federal courts had mandated that black students would be registered. "It is a simple problem that scarcely worth this kind of attention in my judgement," Katzenbach said. Now, he says, "I remember the one line that stung [Wallace] was when I said, 'I don't know what all this show is about.'"

Wallace made his show of defiance, walked out of the doorway and the black students were registered later that day. Violence was averted that day, but Katzenbach was part of effort during the Kennedy and Johnson administrations to avert other incidents of racial violence. Now, he is philosophical about the turmoil over civil rights.

"My theory, looking back on it, is that you had to have a riot and the Army and people hurt, injured, killed, before you were going to get any kind of end to the struggle in the South. It was essential that they realize that resistance was not going to be the answer. Now, you're going to have some segregationists, but you also have an awful lot of responsible people in the South who know that's not going to be good for business, for agriculture, for the future of the South."

Before his career in the Justice Department, he was a POW during World War II after being shot down on a bombing mission over Italy. He talks in matter-of-fact tones about that experience.

"I, at least, find it hard to be afraid of something that you can't do anything about," he told me. It's that kind of courage that has carried him through his career in the public and later the private sphere. Katzenbach died in May, 2012, a year after this interview.