The Kelley Family – "The Incredibles by Penn, The Families"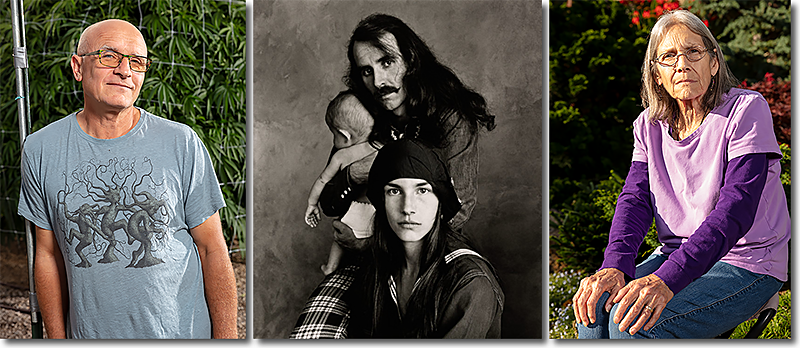 Irving Penn presented readers of LOOK with "The Incredibles" – the Hippies who descended on San Francisco for the Summer of Love. LOOK producers George B. Leonard and John Luce called them "people who both outrage and lure us by being what they are. Looking past current rages and entertainment, Penn placed these people in a neutral, ageless environment. His pictures, accompanied only by fragments of conversation, are addressed not just to the now but to the days to come."

The other five photographs in the sequence included Hell's Angels motorcyclists, a second Hippie family, musicians of the Grateful Dead and Big Brother and the Holding Company, and members of the music promoters the Family Dog. Alan Stone was one of the members of the Family Dog, and his story is here.

"Our whole life was an artistic expression," Gretchen Dewire says now. "Creativity was a huge part of it. Kelley was an artist, and I kind of backed him." Alton Kelly and his partner Stanley Mouse designed many of the now-classic psychedlic posters for the rock-n-roll bands that captured national attention during the Summer of Love in 1967. Many of the concert dates were produced by the Family Dog. One of Kelley's posters is at right.

In their own ways, Gretchen and Alton were trying to create a new "now." LOOK Magazine published the photos with a vision toward "the days to come." So, the readers of the magazine wondered what kind of parents they would be. The magazine presented unattributed quotes, but Gretchen says she hears Alton's voice in them – "What I'm really interested in now is, I have a son. That's all I'm working for now. I wish I knew just how to raise him. I can't say complete freedom. You have to decide what's right and wrong. Of course, I do a lot of wrong things myself."

As with many families in our culture, this one did not survive. About the time the portrait was taken, Gretchen found our Alton was having an affair with one of her friends. Gretchen took Yossarian and left, and about the same time, the Haight-Ashbury community changed for the worse. "Drugs and money changed everything. What changed for me was my health. I had just had my son and had nursed him for a whole year. And I kept getting colds and my hair was falling out and I was down to like 103 pounds and I was pale. And I was just like really wasted." Another friend, Michael, taught her about macrobiotic diets. Gretchen remembers, "Michael said, 'You'll have to stop using drugs.' So, I did, and in two weeks I felt much better. Just incredibly better!" She married Michael and the new family moved to Boston. Gradually, Yossarian had less and less contact with his father.

But Michael turned violent. "Actually, I was a battered wife for 12 years," Gretchen says. Yossarian went back to California to live with Alton, and Gretchen found the strength to leave Michael. She met David Dewire, married and brought Yossarian home. Father and son were often separated for the years, but the Yossarian was by his father's side when Alton died in 2008.

Yossarian admits he is a child of the Sixties. "There's a sense of pride on a kind-of silly egotistical level. You know, 'I was born in the Haight-Ashbury during the Winter of Love before the Summer of Love. Being a part of that cultural explosion!'' My dad brought me to Woodstock at two-and-a-half years old. I don't have a single memory of it. But the fact that I was there at that age, I carry that around with me."

Getchen says she has an addictive personality and the difficulties of her life circumstances limited her effectiveness as a mother. "I was not a good mom," she admits.

"That make me sad to hear that," Yossarian reacts when told of her feelings. "The love was there. I know she loved me and that she wanted to do what was best for me... I love my mom."

Almost a decade ago, Gretchen got into recovery and got sober. "I went into treatment and I got sober. The 12-Step program saved my life!" Although sober, Gretchen still faces health problems. She suffers from COPD and asthma. Yossarian now works on a marijuana farm in southern Oregon, but he has been on his own recovery journey and says he rarely uses drugs now.